The Poets' Corner of Canada: Fredericton, New Brunswick
April is National Poetry Month in Canada.
The first weekend of April 2010, I "particpoeted" in a group poetry reading and launch of a new Fredericton book publisher and their trilingual chapbook Fredericton Green–verte (Side-by-Side Editions / Éditions Côte-à-Côte) on the Fredericton Walking Bridge alongside Herménégilde Chiasson (Acadien poet, painter, printmaker, filmmaker and former Lieutenant Governor of the Province of New Brunswick), Jo-Anne Elder (writer, translator—three times shortlisted for The Governor General's Literary Award for Translation (French to English), director of revue ellipse mag: textes littéraires canadiens en traduction / Canadian writing in translation, and the current president of the Association des traducteurs et traductrices littéraires du Canada / Literary Translators Association of Canada), M. Travis Lane (award-winning poet and reviewer), and Nela Rio (internationally awarded Argentine–Canadian poet, author and artist, and director of both the Capítulo Fredericton de la Academia Iberoamericana de Poesía and the Registro Creativo de l'Asociación Canadiense de Hispanistas).
"Participoet" is a term coined by one of the cofounders of the 25-year-old Canadian Poetry Association to encourage the writing, publishing and reading of poetry.
Fredericton is poet-rich and has a long history of being so. It was honoured, in 1947, by the Government of Canada, as the Poet's Corner of Canada, with a monument erected on the University of New Brunswick campus, in recognition of three poets from the city's past: Bliss Carmen, Charles G.D. Roberts, and Francis Sherman. Other, more recent, significant poets in Fredericton have included Alfred Bailey (founder of The Fiddlehead literary journal in 1945), Fred Cogswell (founder of Fiddlehead Poetry Books, now Goose Lane Editions), and Alden Nowlan.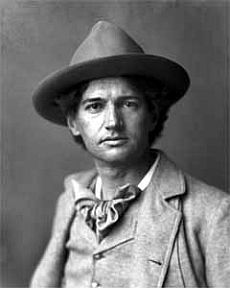 Bliss Carmen
      A great many other poets and writers began in Fredericton and/or taught in the creative writing program of city's universities. Student and/or local resident authors include Alistair McLeod, Brian Bartlett, Joseph Sherman, David Adams Richards, Elizabeth Brewster, Elisabeth Harvor, Sheree Fitch, Sue Sinclair, matt robinson, Adam Dickinson, Raymond Fraser, Herb Curtis, Wayne Curtis, Triny Finlay, Lynn Davies...
The professors and instructors have included Nancy and William Bauer, Don MacKay, Jan Zwicky, Ross Leckie, Mark Anthony Jarman, Len Falkenstein, Kathy Mac, Tammy Armstrong, Roger Moore, Robert Moore, Robert Hawkes, Robert Gibbs and a great many visiting authors and writers-in-residence.
Frederiction

      Writerly Fredericton includes activities around World Poetry Day, 21 March: the 10th International Multicultural–Multilingual Poetry Reading, and a semiannual small press fair.
      On 15 May will be a newer annual reading in Fredericton, a component of the global Palabra en el Mundo / Word in the World. That same weekend, the Writers' Federation of New Brunswick will be holding its annual Words Spring conference at St Thomas University and Scott Griffin, founder of the Griffin Poetry Prize, will receive an honourary doctorate from the university.
Scott Griffin

      In July, the 30-some years old annual Maritime Writers' Workshop is on the UNB campus. In early August is the Notable Acts Theatre festival. Last year's festival featured a staging of A Midsummer Night's Dream on the forested hillside of Odell Park as well as premieres of original short plays.
Fredericton's Broken Jaw Press celebrates 25 years of publishing in 2010. Qwerty, a graduate English student journal at UNB that has turned 15, also hosts readings and issue launches. At St Thomas University, a new journal named Stuart is in the works.
Allison Calvern's Odd Sundays at Molly's reading series with featured writers and an Open Mic continues strong as a venue. The BlackTop MotorCyle Gang writers' group continues its unannounced "reading raids". This year also saw the launch of a new monthly series on campus, Travesty Café, in the UNB grad house' Windsor Castle Bar.  
In addition to their visiting author readings series, UNB English Department's annual Poetry Weekend happens in the autumn with poets gathered from across Canada. The first week of October will see 50 individual readings in Fredericton by Joe Blades during his fourth year in the Canada-wide Random Acts of Poetry. Later in October the Side by Side Festival Côte-à-Côte of literary translation holds readings and workshop activities in both Moncton and Fredericton.
If you ever visit Fredericton, plan to participoet in some great literary activities in the Poet's Corner of Canada.
Blacktop Motorcycle Gang logo

Joe Blades lives in Fredericton, New Brunswick, Canada. On the editorial board of revue ellipse mag, he is Vice President–Membership Chair of the League of Canadian Poets, producer–host of the 15-year-old Ashes, Paper & Beans: Fredericton's Writing & Arts Show community radio program, and founding publisher of Broken Jaw Press. The author of seven published poetry books, including River Suite (Insomniac Press), Prison Songs and Storefront Poetry (Ekstasis Editions) and the forthcoming Casemate Poems (Collected) (Chaudiere Books), two of his books were also translated and published in Serbian editions. Several book and poem translations into Serbia, Romanian, Hungarian, Spanish and Kurdish are in the works.