Beyond the Storm - poems from the Covid-19 era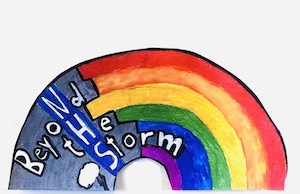 A major anthology of around 100 poems selected from over 2,000 entries to the 2020 Write Out Loud poetry competition which raised thousands of pounds for the NHS Charities Covid-19 urgent appeal. Here are writers' impressions of the 2020 pandemic: life under lockdown, loss and love, visions for the future. They include the top picks of our judge Andrew McMillan, a people's vote winner based on videos of BBC Casualty actors, and other longlisted poems.
What better way to record our experiences of the most difficult period since the Second World War than through poetry? As William Carlos Williams suggests:
It is difficult
To get the news from poems
Yet men die miserably every day
For lack
Of what is found there.
When the news reports have faded, these poems will survive to tell the tale. They might even become a collector's item on Antiques Roadshow.
Price £10 per book + postage and packing.
Availability
Books are available now. Please order below.
Proceeds from anthology sales
All competition and people's vote donations have gone directly to NHS Charities Covid-19 appeal via the Just Giving page.
After covering unit costs and administration costs, Write Out Loud will give all surplus from anthology sales to the charity.
Details
A5 paperback, laminated, full-colour gloss cover; 120-136 pages, recycled paper.
With introductions, judge's comments and project team details.
Contains first, second and third place – and highly commended - poems chosen by Andrew McMillan; the People's Vote winning entry; and other longlisted poems.
About Write Out Loud
Write Out Loud CIC 2015 is a not-for-profit community interest company, run almost entirely by volunteers. Since 2003 it has been bringing more people to poetry, and poetry to more people, through its website's national poetry listings, poetry news and reviews pages, its online community, major competitions and network of local open-mic groups.
Please contact help@writeoutloud.net if you have any questions about ordering.